Premium airport transfer services
Stress-free start with airport transfer Munich
Start your journey in Munich with MK TRANSFER and experience the quality of a professional, high-quality airport transfer. Whether traveling for business or pleasure – our first-class limousine awaits you to take you to the airport safely, on time and without any stress. Forget the inconvenience associated with public transport or parking. Instead, let us turn your journey to Munich Airport into a luxurious experience. We offer a 24-hour service based on your individual needs and schedule to ensure your airport transfer is as smooth and enjoyable as possible.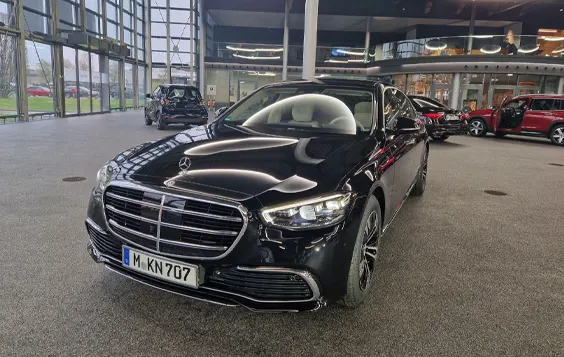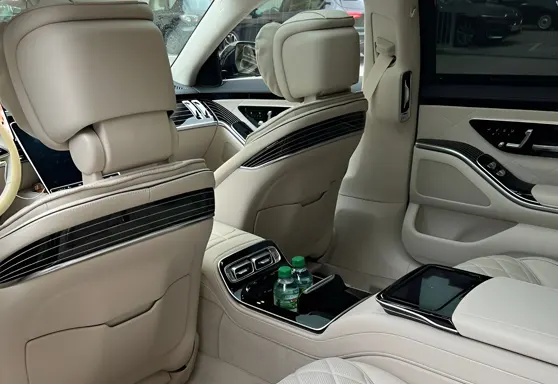 Comfortable transfer to Munich Airport
Our customers appreciate our service mainly because of the unsurpassed comfort we offer. We know that any trip, short or long, should start with the right level of comfort. Our ultra-modern limousines are equipped with all the amenities you need to relax and prepare for your flight. Enjoy the peace and privacy as you drive through the city and arrive refreshed and ready for your trip to Munich Airport. And if you need to work while driving, our vehicles provide a quiet environment with free Wi-Fi so you can focus on what's important.
Travel in style and luxury
MK TRANSFER stands for style and luxury. With our fleet of premium limousines, we offer not only an airport transfer, but a comprehensive luxury experience. Our professional team ensures that every detail is taken into account to make your ride enjoyable and memorable. When you drive with MK TRANSFER, it is not just driving to Munich Airport, it is driving with a presence that doesn't go unnoticed. Rely on us for a first-class service that leaves nothing to be desired. MK TRANSFER is a service where every customer is a VIP, and we always strive to exceed your expectations to ensure that your journey is flawless from start to finish.
Frequently asked question
Frequently asked question
What is MK TRANSFER airport transfer?
MK TRANSFER Airport Transfer is a premium limousine service that takes travelers from any location in Munich to the airport and back. Our service is designed to make your journey to the airport as pleasant and stress-free as possible. Our 24/7 service provides you with maximum flexibility.
How can I book the MK TRANSFER airport transfer?
You can easily book our airport transfer online via our website. Alternatively, our friendly customer service is also available by phone to take your booking and answer any questions.
Is the MK TRANSFER airport transfer available 24 hours a day?
Yes, our airport transfer service is available 24 hours a day, 7 days a week. Regardless of your departure or arrival time, you can rest assured that our professional drivers will be ready for you.
What happens if my flight is delayed?
Our team monitors all flight times to ensure your driver is ready to pick you up when your flight lands, even if there are delays. This means you do not have to worry about a delayed flight affecting your travel plans.
What makes the MK TRANSFER airport transfer different from other services?
At MK TRANSFER we pride ourselves on our first-class service, which is characterized by reliability, comfort and luxury. Our experienced, professional drivers and our fleet of premium limousines ensure that you can fully enjoy your journey to and from the airport. Our goal is to provide an exceptional experience every time, and we always strive to exceed your expectations.