MK TRANSFER stands for luxury, comfort and excellence in Munich. As a renowned company in the business travel industry, we set standards and define what it means to travel in business class. Our luxury limousines, accompanied by experienced and discreet drivers, offer an unparalleled driving experience tailored to your specific needs. At MK TRANSFER, every ride is tailor-made and personalized to offer you the highest level of comfort and convenience. Enjoy Munich in our first-class service while we take care of all the details. Experience the city like never before with MK TRANSFER's business class.
Travelling on business? MK TRANSFER!
At MK TRANSFER we know that business trips can often be demanding and stressful. That's why we make every effort to make your journeys as pleasant and stress-free as possible. Our quality service gives you the opportunity to sit back and relax in our premium limousines or prepare for the next important meeting. With us as your partner, you can focus on what really matters to your business. At any moment, we're here for you. Travelling to Munich for work? MK TRANSFER is your reliable partner.
Forget the traffic and stress, let MK TRANSFER make your business trip a unique experience. Our luxury limousines are more than just a means of transport – they are your mobile office, your personal haven of peace amidst the hustle and bustle of Munich With our service you not only get reliable transport, but also a space where you can work, relax and regenerate. Trust our discretion and professionalism. In Munich, business travel means MK TRANSFER. We make sure that your business always keeps moving.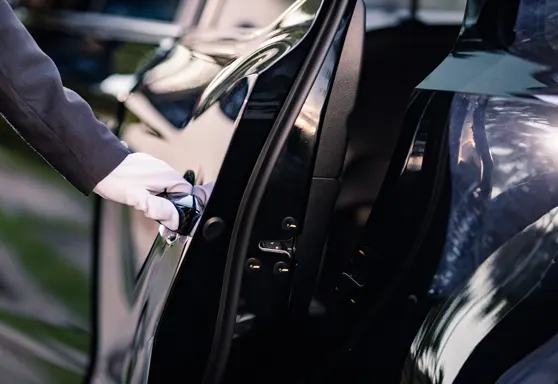 Frequently asked questions
Frequently asked question
WHAT MAKES THE MK TRANSFER's business trips DIFFERENT FROM OTHER SERVICES?
Our service at MK TRANSFER is incomparable, as we focus on the specific needs of our business customers. With a fleet of luxury limousines and professional, experienced drivers, we offer a service focused on the highest quality, punctuality and discretion. With us, you are not just a passenger number, but a valued customer whose comfort and satisfaction are our top priority.
Can I book short-term business trips with MK TRANSFER?
Yes, at MK TRANSFER we understand that business plans can sometimes change at short notice. That's why we offer flexible booking options to suit your needs. Even with short-term inquiries, we strive to offer you the best possible service.
Does MK TRANSFER also offer long-distance business trips?
Yes, we are proud to offer our customers an extensive range of services, including long distance business trips. Our luxury limousines are ideal for long journeys, and our team of professional drivers will ensure that you reach your destination comfortably and relaxed. Please contact us for details and rates.
How can I book a business trip with MK TRANSFER?
Booking a business trip with MK TRANSFER is easy and uncomplicated. You can book your ride directly through our website or by phone. For special requests, please feel free to contact us directly - our customer service team is always available to answer your questions and facilitate your booking.
What happens if my flight is delayed?
At MK TRANSFER we understand that delays in travel are inevitable. If your flight is delayed, we monitor flight information and adjust our service accordingly to ensure your driver is waiting for you as soon as you land. With our service you can be sure that we are always there for you, no matter when you arrive.