Immerse yourself into the beauty and history of Munich with our unsurpassed luxury tour. In our luxurious and well-equipped limousines you can experience Munich like never before. Be chauffeured to the city's most iconic landmarks, including the magnificent Nymphenburg Palace, the iconic Marienplatz and the vibrant Viktualienmarkt. As you drive from one highlight to the next, you will enjoy the first-class comfort of our limousines and the incomparable service of our experienced chauffeurs. Our "Munich Luxury Tour" is more than just a ride – it's an unforgettable experience of the city from a completely new perspective.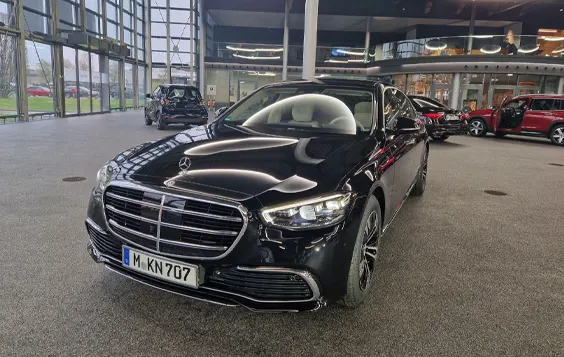 First-class Munich exploration
There is no better way to get to know Munich's heart and soul than with our "First Class Munich Exploration". Our professional chauffeurs know Munich like the back of their hand and guide you through the city with the utmost precision and consideration. From the expansive English Garden to the lofty towers of the Frauenkirche, our tour takes you on a journey through the city's fascinating history and unique culture. You will enjoy the luxurious comfort of our limousines and our excellent service, always striving to exceed your expectations.
Exclusively through Munich
With our "Exclusive through Munich" tour we offer you a unique and individual experience that goes far beyond the typical tourist routes. In addition to the city's famous sights, we will take you to hidden treasures and places that only locals know. Enjoy exquisite Bavarian cuisine at a local-loved inn or admire modern art at one of the lesser-known museums. This tour is as unique as you are – we design it according to your wishes and preferences, guaranteeing the highest level of service and comfort in our first-class limousines. "Exclusive Munich" is the ultimate luxury tour for discerning travelers who want to discover the real Munich.
Frequently asked questions
frequently asked question
What does the Munich Luxury Tour include?
Our "Munich Luxury Tour" offers you a first-class experience that goes beyond ordinary sightseeing. You will drive in one of our top equipped luxury limousines and be driven through Munich by one of our experienced and professional chauffeurs. The tour includes a visit to Munich's most famous sights, including Marienplatz, the Nymphenburg Palace and the English Garden. Our chauffeur will also take care of all your wishes and make sure you have the best possible experience.
How long does it take to explore Munich?
The duration of the "First Class Munich Exploration" can vary depending on which and how many attractions you want to visit. However, you should usually plan at least 2-3 hours for this tour. If you have more time available, we can expand the tour accordingly and show you even more of the beautiful city of Munich.
Can I choose my own route for the Exclusive Munich Tour?
Yes, absolutely, with our "Exclusive through Munich" tour, our goal is to offer you a personally tailored experience. We are happy to create a route according to your wishes. Just let us know which places you want to visit and we will create an individual tour that is perfectly tailored to your interests.
How many people can participate in a tour?
Our luxury limousines can comfortably carry up to four passengers. If your group is larger, we can either provide multiple limousines or, depending on availability, use a larger luxury van. Regardless of the size of your group, we always ensure that you enjoy the highest comfort and the best service.
How can I book the Munich Luxury Tour or the First Class Munich Exploration?
Booking one of our tours is easy and straightforward. You can book directly through our website, write us an email or call us. When booking, please let us know the desired date, time and any special requests. Our friendly and helpful staff will then take care of all the details and make sure your tour is perfectly organized according to your wishes.